Get an All Day Pass for the Bank Holiday Preview Festival at The Bill Murray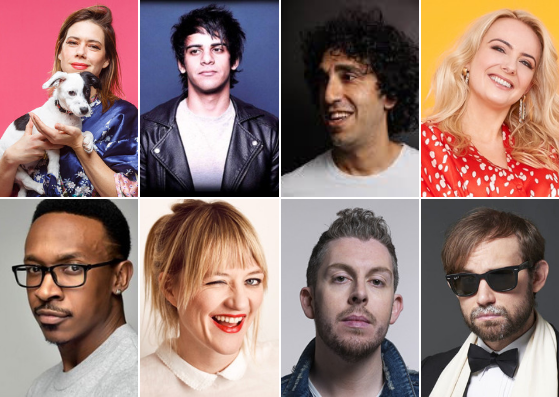 Come to The Bill Murray on the 27th of May Bank Holiday for a day packed with previews from some of the best comedians on the circuit.
Get an All Day Pass for £12 or watch individual shows for £3 each.
1:00pm Lou Sanders: Say Hello to Your New Step Mummy
Loulie, AKA the face that launched a thousand dicks, examines conduct (in the media, baby), mental health (other people's, I'm fine) and perverts (that one is mainly me, actually). I'll be oversharing, wanging on about spirituality and giving everyone some much unwanted advice.
2:10pm Kai Samra: Underclass
Winner of the Birmingham Breaking Talent Award 2017, Kai Samra is on a mission to subvert lazy stereotypes based on his personal experience of life as a working-class British-Asian.
3:20pm Ray Badran: Everybody Loves Ray, Man
Australian comedian Ray Badran recently moved to the UK and is performing his debut Fringe show. A show about the big issues plaguing us all such as pockets, Subway sandwiches, fridges and more. Come and see why everybody loves Ray, man. 
4:30pm Travis Jay: Funny, Petty, Cool
Funny, Petty, Cool combines hilarious, deeply personal anecdotes with side-splitting social commentary, offering insight into Travis Jay's world. From the time he accidentally became the leader of a Black Lives Matter protest to the time he went to war with a four-year-old, Travis recounts stories and more with the effortless charm he's become renowned for.
5:40pm Steff Todd: Reality Check
Award-winning comedian, impressionist and internet sensation Steff Todd presents her debut solo show. Hailing from Yorkshire, Steff has gained worldwide attention with her viral impressions of stars ranging from the Kardashians, Love Island, The X Factor and many more, making her one of the hottest emerging talents in comedy. Join her for her debut hour of hilarious stand-up, razor-sharp one-liners and amazing celebrity impressions. Steff has appeared on The Dog Ate My Homework (CBBC) and has recently supported Iain Stirling, Sara Pascoe and Rob Delaney.
8:00pm Tania Edwards: Don't Mention It 
Award-winning stand-up comedian Tania Edwards explores these emotionally incontinent times and explains why it's imperative to repress our emotions. But just how easy is it to be bashful and brazen, coy and courageous (and make sure everyone notices)?
9:10pm Carl Donnelly: Shall We All Just Kill Ourselves?
Double Edinburgh Comedy Award nominee Carl Donnelly ('Observational genius' (Guardian)) returns with a new show about how difficult it is to be a good person in the modern age. Having travelled the world and tried every self-help technique there is, Carl is now questioning the point of it all and is contemplating starting a death cult! Come along if you want to join him.
10:20pm Naz Osmanoglu: The Naz Show
Heavyweight sketch maestro (WitTank) and award winning stand-up veteran, Naz, charges back to the 'Burgh to punch out his first solo sketch show. Characters grotesque, sketches inspired and laughs aplenty. Star of BBC Two's Inside No. 9, Flat TV and Plebs (ITV2). 'A high energy, no-holds-barred hour from the consistently funny Naz' (Telegraph).
Get an All Day Pass for £12 or watch individual shows for £3 each.