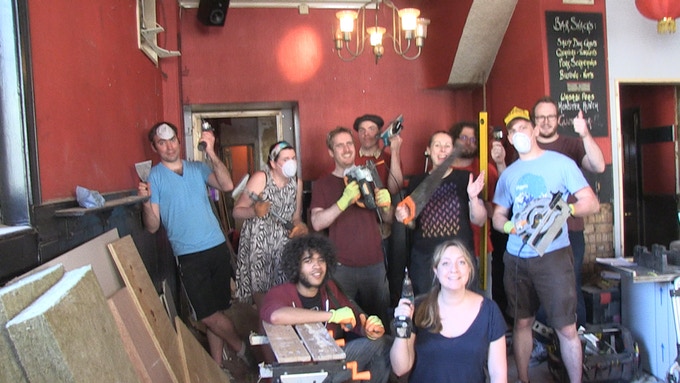 Angel Comedy is built on the principle of community. We want to make comedy accessible to everyone, so we host free shows every night of the week, as well as weekly free and inclusive comedy workshops.
This section of our website is a notice board for our community. It will be updated weekly. You can email submissions and comments to info@angelcomedy.co.uk
Please enjoy.
An incomplete list of podcasts from our community
All I Do Is Fail is a podcast that likes to look at life's failures and celebrate them. Hosted by comedians Tom Elwes and Ali Woods. They are joined by a different guest every week to discuss their life's failings. The flaw is yours! iTunes Spotify
Billy Joe Mates. A comedy podcast that takes comedians back to school to resit a subject of their choosing. Presented by Joseph Emslie and Joseph Parsons. iTunes Spotify
The Comedian's Comedian Podcast with Stuart Goldsmith for anyone who writes comedy, makes comedy, loves comedy or just has an interest in comedians and what makes them so annoying. Stuart has interviewed more than 275 of the funniest people in the world (often at The Bill Murray) about how they do what they do.  Acast iTunes Spotify
Daddy Look at Me with Helen Bauer and Rosie Jones. It takes a certain type of person to work in showbiz, and often it was clear from the start that they were destined to end up on stage. Daddy Look At Me takes the time to explore these scenarios with a guest every week. Acast iTunes Spotify 
FOCUS PEOPLE! With David Mills. A look back at the week and a look ahead to a more dynamite future. iTunes Podbean
Nobody Panic. Formerly known as The Debrief Podcast. Your guidebook to being a fully functioning adult without screaming all the time. Each week, Stevie Martin and Tessa Coates tackle life's big, small, fun and sometimes scary questions with the help of experts and special guests because we're all in this together, guys. So nobody panic. Produced by our friends at Plosive Productions and recorded at The Bill Murray. Acast iTunes Spotify
Join The Loremen (James Shakeshaft and Alasdair Beckett-King) as they "investigate" local legends and forgotten folklore. iTunes Castbox 
At the Mystery on the Rocks bar you'll find a retired sleuth, the bartender trying to settle his tab, and the down-on-her-luck lounge singer, solving mysteries and drinking cocktails. Each week a new guest enters the bar and attempts to solve an unsolved mystery alongside the regulars. Hosted by Masud Milas, Chris Stokes, and Sooz Kempner. Acast iTunes Spotify
Off Menu. Comedians Ed Gamble and James Acaster invite special guests into their magical restaurant to each choose their favourite starter, main course, side dish, dessert and drink. Ever wanted to eat your dream meal? It's time to order Off Menu. Produced by our friends at Plosive Productions and often recorded at The Bill Murray. Acast iTunes Spotify
The Rob Auton Daily Podcast. It is him reading out writing he's written that he values enough to want to share with people who are not him. The pieces range from 2-8 minutes and are accompanied by music and sounds (most of the time). Produced by our friends at Plosive Productions. Acast iTunes Spotify  
---
Funny funnies
Daniel Muggleton – 3 Stripes
Follow Daniel on twitter and instagram. Watch part II of his special here
---
Alasdair Beckett-King's Lear
Follow Alasdair on twitter, youtube, and listen to his podcast.
---
Crush On: Lynn Ruth Miller
Follow Lynn Ruth on twitter.
---
Lad Pad Episode 2 with Ali Brice and Joz Norris
Follow Ali on twitter and instagram. 
Follow Joz on twitter and instagram. Follow Mr Fruit Salad on twitter.
---
Things Drinkers Say to Non-Drinkers
Follow Daman on twitter, instagram and youtube.
---
James OD's new life mission
 

 

Ver esta publicación en Instagram

 
Follow James on twitter and instagram.
---
Taylor Trash – Smooth Operator