The Best Medicine Festival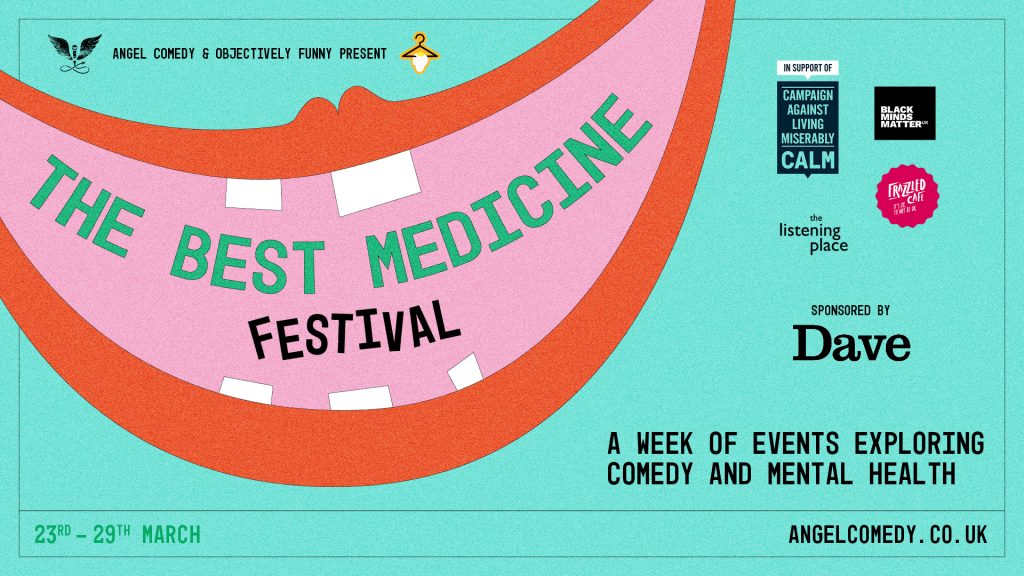 A week of events exploring mental health and comedy
A collaboration between Angel Comedy, Objectively Funny and Dave

23RD – 29TH MARCH 2021
On 23rd March 2021, the anniversary of the first lockdown, Angel Comedy and Objectively Funny will launch The Best Medicine Festival: a week of events exploring comedy and mental health, including online workshops, panels and performances.
The past 12 months have seen a skyrocketing mental health crisis. The pandemic has left many people facing grief, anxiety and the impact of isolation on a daily basis. The Best Medicine Festival sets out to celebrate the way in which comedy can destigmatise, normalise and raise awareness of mental health issues, while also offering much needed support for comedy industry professionals.
Mental Health Panel Discussion – 8pm, Tuesday 23rd March
The panel will feature comedian and mental health campaigner Ruby Wax, comedian Kemah Bob, psychiatrist and comedian Dr Benji Waterhouse, comedian Ahir Shah and Angel Comedy co-founder and psychotherapist Sarah Pearce. Chaired by comedian and producer Martin Willis, these mental health professionals and comedians will be discussing mental health and the comedy industry, including the toll of the pandemic.

The Best Medicine 2021 Gala Show – 8pm, Saturday 27th March 
An online comedy show featuring some of our favourite performers including Tim Key, Sindhu Vee and Ahir Shah. Profits will be donated to mental health charities including CALM and The Listening Place.
Workshops
Over the past year, lockdowns have decimated cultural industries such as live comedy. Thousands of performers, venue staff, bookers and more lost their livelihoods and community overnight. The impact on individuals' mental health has been staggering. The Best Medicine have curated an online programme of workshops that aim to support the comedy industry as we look ahead to reopening over the coming months.
Tuesday 23rd – Monday 29th, 12 pm: 30 Minute Daily Guided Meditation with River Hall
Tuesday 23rd, 1pm-3pm: Creating a Sustainable Practice as an Individual Artist with Ben Target
Wednesday 24th, 1pm-2pm: Mental Wellbeing and Balance with Cally Beaton
Thursday 25th, 1pm-2pm: Financial Advice with Gemma Beagley 
Friday 26th, 1pm-2pm: Opening to Our Own Laughter with Suzy Harvey
Saturday 27th, 2pm-4pm: Building Intentional Routine – a Workshop for Creatives with River Hall
Sunday 28th 11am-5pm Introduction to Shamanism with Dean Addams 
Monday 29th, 1pm-3pm: Meet your Inner Critic with Gemma Latimer
Shows
We are a comedy club after all, so of course we're also putting on shows tackling the topic of mental health from some of our favourite performers.
Wednesday 24th, 8 pm: Rich Wilson – I Hope This Email Finds You Well
Thursday 25th, 8 pm: Harriet Dyer's Mental Health Show
Friday 26th, 8 pm: Bethany Black – Hot Brain
Sunday 28th, 8 pm: Bobby Mair – Work in Progress
Monday 29th, 8 pm: Felicity Ward – Work in Progress
More to be announced!