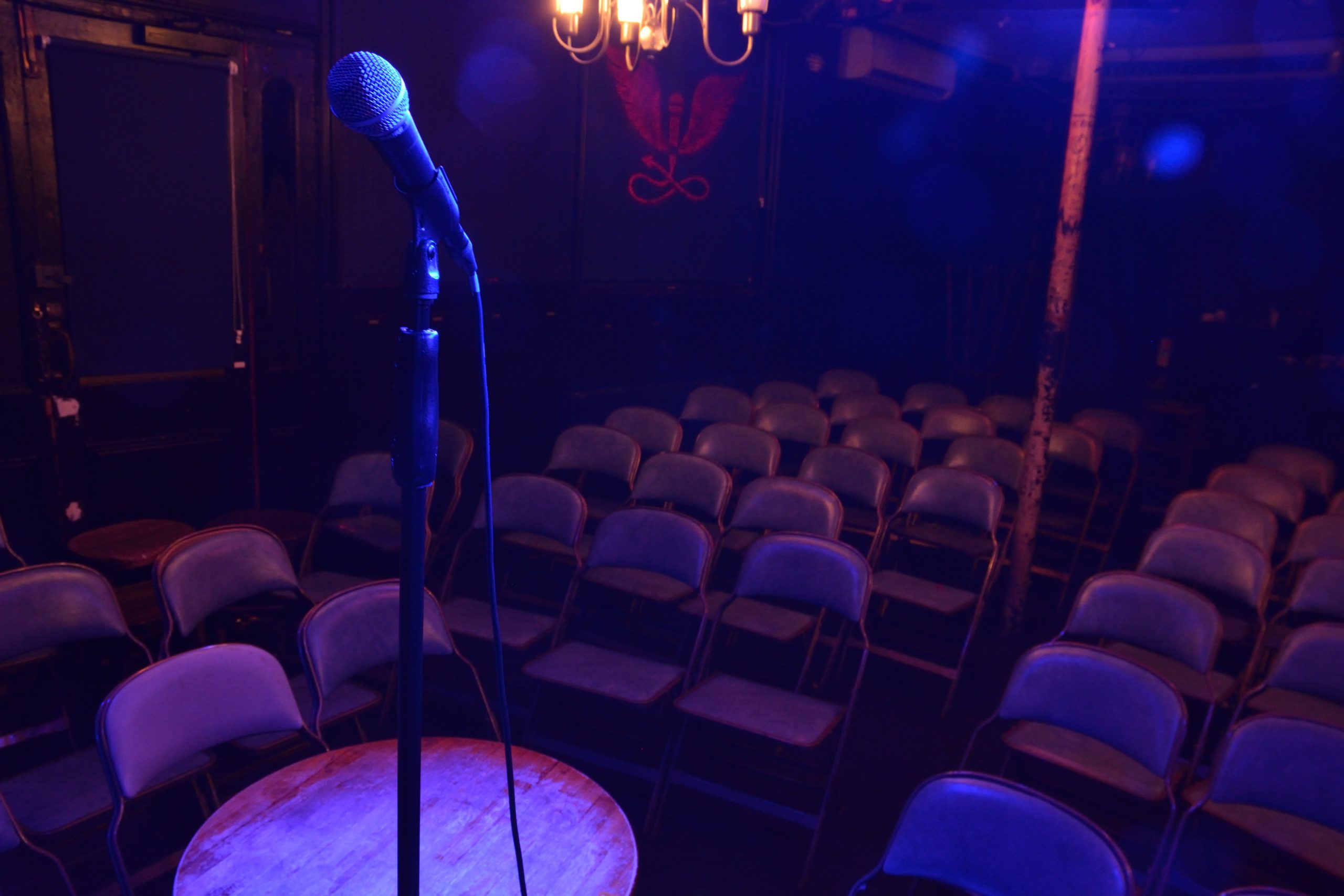 Week Long Intensive Stand Up Beginner's Course (Day 3)
Thursday 18th August 2022, 10:15am to 4:15pm - courses
Week Long Intensive Stand Up Beginner's Course
Duration: 5 consecutive days with a relaxed showcase for those who want to perform on the Saturday afternoon (Saturday 20th August).
Location: The Bill Murray, London
Cost: £325/£250 NHS, student and unemployment discounts available - just ask
This course is for people who have never done stand up comedy or new comedians looking to sharpen their act. We will look at the very basics of stand up comedy, from learning how to write a simple "pull back and reveal" joke to how to apply for gigs on the London circuit.
The intensive course covers everything in our usual courses and allows a significantly larger amount of time on stage for participants.
The course will cover detailed joke writing, performance and developing your stand up persona.
Dec Munro is a co-founder of the Bill Murray pub (Chortle's Best London venue 2020). He's directed shows that have won awards at the Edinburgh Festival and been seen around the world. He's worked on stand-up sets that have been on Live at the Apollo, Conan, Netflix specials, Mock the Week and Radio 4.
More importantly, he loves comedy and he is excited to work with comedians at all stages of their career.
http://www.decmunro.com/testimonials/
"I cannot recommend Dec Munro highly enough. His feedback is measured, insightful, never superfluous and ALWAYS useful." Angela Barnes
"He will make you into the best version of yourself. I am never funnier or more productive than when I am in the company of Dec." Sofie Hagen
"Dec's class is the best way to get started doing stand up. Working with a director who regularly has shows at international comedy festivals is helpful because he can provide a 3rd party perspective that's incredibly professional. Very generous person and wise teacher. If you're serious about stand up, take the class. Hopefully you can get a spot!" Nina Kramer
"Dec has an incredible instinct for crafting all different types of comedy. Dec is a gifted, generous teacher. He is insightful and comprehensive in his teaching. He is humble and kind. His love for comedy shines through and will increase your heart and stamina for it." Rosemary Gomes
"This course was fantastic. Dec Munro is a great teacher – engaging, personable, supportive and very funny; he helped me to build something that I am proud of, and I really loved working with the other group members. He's very good at what he does. It was like learning to drive in a Rolls Royce." William Arnall-Culliford
"Dec is an outstanding comedy teacher and mentor. He brought out the best in my work, encouraging me to take risks, play to my strengths, and create comedy content that gave me the opportunity to have fun. I would highly recommend working with him if you have the opportunity. I'd absolutely recommend the course, for those who want to do stand up, for anyone who wants to sharpen their comedy writing skills, for people who want to improve their public speaking, or build confidence." Maria Gregg
"With Dec's abundance of knowledge about comedy and the business, this course is the perfect way to get started in stand-up. But it's worth doing even if you never intend to get up on another stage after the final showcase. These classes really demonstrated that comedy is an awesome way to take what's different about us (and potentially the things we're self-conscious about) and turn them into something funny, which is actually quite a profound way to gain self-confidence. It's also just a fun, creative way to spend your weekend." Fran Fabriczki
"I loved this course! Given that it's pretty much everyone's worst nightmare to stand up in front of strangers and try to make them laugh, Dec does a fantastic job from the very beginning of fostering an encouraging, friendly atmosphere where we all help each other to find what makes us individually funny. I had no creative – let alone comedic – experience going into this course, and I was still able to perform a 5 minute set at the end of it. I had put off trying stand-up for ten years out of nerves, but after seven weeks I really enjoyed performing in front of an audience and want to do more." Annabel Edmonds
"Phenomenal course with the right balance between structured learning, practise and feedback, and open discussion. Would 100% recommend to anyone wanting to start out in comedy or just enjoys stand up. Dec is incredibly open and insightful as a teacher and his feedback helps you grow so much more as a performer." Morag Deans
"Dec's Introduction to Stand Up course has been a fantastic experience. His ability to instil confidence and draw out the funniest side of people is remarkable. His insight and advice is invaluable, and he ensured the atmosphere was nothing but supportive and welcoming for the duration of the course, meaning everyone achieved tangible progress week on week. I would leap at the chance to work with Dec again in any capacity." Sam Coade
"As a beginner to comedy, Dec helped me to feel welcomed into this strange world right from the start. If you have been wanting to finally make the leap into performing comedy, this course is a great first step! I highly recommend the course to all those out there who have been waiting for a sign to finally start their stand-up career. This is it, this is that sign." Anna George
"Dec's got a real knack of finding what's funny about you, drawing it out and helping you hone in on it, sometimes even before you've realised what that even is. He created a relaxed atmosphere in the class which gave space for people to grow into their comedy." Jamie Cutteridge
"I would thoroughly recommend this course. As someone who aspires towards stand up but suffers from a lack of confidence/nerves, I have found Dec's help to be invaluable in these early stages. His knowledge, credentials and clear passion for the subject are a clear indication to me that if you require help with stand-up comedy, Dec is the person to ask." Dan Powell
"I guess my situation was maybe a bit unique and I really had no idea what I was signing up for, looking at a schedule that included booking gigs and a live performance at the end I thought I was well out of my depth! But the course was well paced, engaging, supportive and with a great bunch of people (and Dec) and it took me to a place where I actually felt confident to perform and would even do it again, most importantly it was fun!" Tom Naish
"I took Dec Munro's 'Getting started…' class and was very impressed with the course. Beyond my expectations, the course took me from complete zero to a working 5 min set and gave me the tools and confidence to deploy it on an unsuspecting stand-up world. Dec really knows his stuff and it shows." Tom McManus
"I'm really appreciative of Dec's guidance as well as generosity with his time. His style of nurturing everyone's individual style (rather than a prescriptive "in order to be funny do A, B and C") is really great - which lets each person's personality come through to create their own authentic brand and style of humour." Varun Kumta
"A fantastic course that I would recommend to anyone with a passion for stand-up. Dec really encourages you to harness on what already lies within. Plus a great opportunity to meet amazing people." Nikki Goffe
"I would 100% recommend this course to anyone who wants to get an insight into comedy from someone who really knows what they're talking about and really pushes you to work harder to do your best." Naif Mohamed
"I would highly recommend this course. Even though I had already completed a beginners course in the past. It was great to go back to basics, re-focus and come away with a greater understanding and tight set plus. I am very happy." Elaine Blackmore
"Dec was incredibly supportive and knowledgeable while remaining constructively critical. My writing and editing ability has drastically improved since starting the course and I would recommend to anyone thinking about taking part in the future to do it! End-to-end, a fantastic experience." Laurence Kite
"Dec perfectly balances encouragement and honesty to create a free and expressive atmosphere enabling interesting material and personas. Working with Dec for just a few months has really accelerated the development of my persona, material generating skills and trust in my individual comic voice" Annie Sheppard
"Dec has rekindled my love for stand up comedy. Previously I had given up on writing and performing stand-up, now I'm picking it back up again with even more determination. It's terrible. It's basically all Dec's fault that I now have a solid 5-minutes, that I'm really pleased with and I think is genuinely funny. Damn You Dec Munro! Damn you!" Harry McIlroy
"Dec is excellent at packaging comedy in a fun, accessible way to all, communicating with ease how to understand the importance of persona and how a comedian is seen by the audience. Allowing us to "find our funny" and understand that everyone has something to say, everyone can find and communicate what we find funny and deliver with economy of words and with creative performance techniques, I am so so glad I took Dec's course, comedy is terrifying but horrendously rewarding and I would recommend it to anyone looking to take comedy seriously." Grace Viccary
"I found this course incredibly insightful and made me think about stand up differently and actually open my eyes to some of the realities and real practicalities of it. Dec's take on how much character and persona play into the delivery and writing process is unique and has not only deeply informed my understanding of the creative process around standup, but also allowed me to better appreciate comics out on the circuit today." Lewis Craig
"Comedy has been a long term passion for me and although I'd never given it a go myself, I pushed myself to try something new and joined Dec's Get started in Comedy Course on Zoom. Dec was a brilliant teacher who harboured a very supportive atmosphere amongst the group, which let us know that we could always try out material amongst a very encouraging audience. He was great at explaining techniques and showing examples from a wide variety of big names in comedy. The best thing about the course was that Dec spent time with us in 1on1 sessions to help us create and refine our first 5 minute set, before performing it in front of the rest of the class. This meant that we finished the course with our very own first set, the experience of performing it in front of people and clear next steps about what to do in the world of comedy." Dominic Burrell
"Dec provided us with a rounded and well-formed intro to the world of doing the stand-up that came from a place of experience and knowledge. If you need a nudge in the right direction cos you have the itch this is a great route to get you going." Andrew Garnet
"Dec was an outstanding teacher for a number of reasons - his technical knowledge covering everything from an opening gambit to persona and delivery. Since the course, I have been able to analyse and critically assess the positives and the pitfalls of both good and bad sets and tailor mine to be more effective and snappy. What I enjoyed perhaps the most was Dec gave us the freedom to explore comedy in our unique styles and guided us based on those styles. I have found other teachers or courses may sometimes be relatively generic in delivery and advice, and material generated there would be boxed in by the conformity, whereas Dec let the participants present their own work and helped each of us craft it using his perspective. I also found the one to one session very useful & a unique part of the course. Dec has a pleasant and warm nature and vast experience, knowledge and passion. Recommended!" Alf E Jones
"I really enjoyed the zoom course with Dec and I learned so much. His feedback was very precise and detailed."Andrea Koikai
"One of the best decisions I've taken in years. The opportunity to learn a new skill, meet some amazing people and learn from a super knowledgeable tutor is priceless. It's worth the twice over." Kevin Cromwell
"Get started in comedy is a fantastic course. I am definitely a lot more confident in my knowledge of the ins and outs of stand up. Apart from being a smashing bloke, Dec is straight up in his critique of your work and helps you to find the funniest truth of your material. Highly recommend." Dave Layde
"I came to Dec Munro's class new to comedy and not really knowing what to expect. Within the first session, I already knew that the Stand Up Beginner's course had become the highlight of my week. Dec is a wonderful teacher who clearly has a wealth of experience and knowledge to draw on and communicate in his particularly patient and twinkly-eyed way. The pace of the course saw me go from dreaming about performing on stage, to learning the fundamental skills of a standup like "persona", writing and stage presence to eventually performing my own material in front of a live audience in one of London's best comedy clubs! I would recommend this course to anyone with a passing interest in comedy, someone who wants to build their confidence or anyone who just wants to meet like-minded people and feel part of a community. All in all, I feel richer for the experience!" Jake O Brien Murphy
"Dec takes you from being a trembling wreck to someone who can survive and thrive for 5 full minutes on stage in an amazingly short period of time." Robert Griffiths
"Dec is a fantastically supportive teacher, who over the course has been able to take me from zero to a 5-minute set. His knowledge about the structure of jokes, how to balance honesty with humour and how to get started in the industry are invaluable. I have finished the course feeling fantastic and confident to start pitching for slots. Thank you Dec!" Jen Larner
"A rollercoaster seven weeks from having absolutely no idea what I was doing, to standing in my dining room doing pigeon impressions to complete strangers in the name of comedy. Dec's course goes from persona to performance with tons of support along the way, and I'd thoroughly recommend the whole experience."
"A rare human being with a knack for bringing out the funny in people in a way that completely suits their persona and style. Dec doesn't seem to say a lot, but he doesn't need to, because whatever he offers is measured and meaningful." Victoria Barker
"I consider myself an introvert, yet through Dec's comedy course I learned to embrace it and build it into my comedy persona. I've come out of Dec's course more confident not just in my comedy skills but also other parts of my life. You don't have to be a class clown or a natural centre of attention to excel in comedy. Go for it!" Peter Hoffer
"I've gone from zero to hero doing Dec's course! I had so much fear about writing my own set. It had stopped me taking the subject at university 20+ years ago! Since doing this course with Dec I have overcome a debilitating fear that stopped me, and I can now write my own standup comedy and perform it in my own unique style. I now know who I am as a comedian, what I stand for and my performance style. Thank you!" Franny Treymaine
"It had been suggested I try standup and after browsing online I came across Dec's course. I was interested and made contact. From then on Dec was quick to reply to any questions I had and a quick phone call with him confirmed that this was the course for me. I have loved every single session. Dec has been able to teach me (a complete beginner) some incredibly helpful tools in a clear and concise manner. He is always on hand to help with feedback/suggestions. I would recommend this course to everyone." Sean B
"
Three words to describe this course, so ably led by Dec: Wow, Wow and Wow. Were I allowed a fourth word, it'd also be Wow. The course is super-supportive, cleverly laid out and really does get you to a point where you not only have a tight 5 minute set, but also you think 'ok I might actually be able to land this.' I'd highly recommend." Ollie Williams
"You may not sure what is funny about you or how to be funny. Or maybe you have an idea because your friends find you funny. Dec helps you on this course to unleash all your potential and understand how your jokes and your ideas can be shaped to make you become a Comedian. You will end this course understanding the techniques that work and building a natural intuition to transform all your sentences into funny material. Also, I often do public speaking for my day job and this course helped me feel more confident than ever in both stages, the professional and the comedy one." Roger Ferrandis
"I never thought I would get to a point where I could perform 5mins of stand up in front of an audience, but I felt comfortable doing this by the end. Dec is an incredibly engaging and talented teacher. I couldn't recommend this course enough." Caroline Steel
"Dec shines a light on areas of comedy which are hidden from most. I would recommend this course to aspiring comedians, those who are simply curious regarding how comedy works, anyone who has a speech which needs an injection of humour or if you just feel like learning a new skill" Leon Earlington
"It has been an absolute pleasure being part of Dec's class. I joined with no expectations of continuing after the showcase but I have enjoyed every part of the course enough to know, it doesn't stop here! Found my happy place! I cannot recommend Dec highly enough . He is a kind, generous and wise teacher who will be there for you through this process to make sure you get to where you want to. He will help and guide you to let you craft 'your funny' giving you the tools you need." Chandkiran Nath
"I'm so glad I found this comedy course taught by Dec Munro. He has been very generous with his time and wisdom throughout. His knowledge of comedy skills and informed practice has been invaluable to me and, from what I witnessed, others in the group. His style is nurturing and enabling. He allowed me to try out work and fine tune it with the 1:1 session which finally gave shape to a piece I can be proud of performing. I found his approach nourishing for my inner comedian. When I researched where to take a course, his stood high above the others in my opinion. I was not disappointed at all. I'm looking forward to developing my five minutes to the next stage. Thank you so much Dec." Rob Windsor
"In 6 weeks with Dec, I wrote more pages of fuller-formed thoughts that might be sorta funny than I have in the 19 years of wanting to get into comedy where scribbles never transformed into something more. This is largely because Dec does two things brilliantly: provides a scaffolding to the art of creating comedy without making it a full-on science; and transmits (to anyone listening to him) a deep understanding of the writing process that leads to insightful comedy." Angadh Nanjangud
"I joined Dec's Stand-Up Beginner's course because I wanted to learn more about writing comedy, and I am so glad I did! Dec guided us through everything, from establishing a persona and turning much-loved pub stories into material to joke structures, performance techniques and so much more. And all that nerdy comedic learning was balanced with dedicated performance-time each week, which brought our material to life in front of the most supportive group imaginable. I'm gutted my course has already come to an end. If you've long considered stand-up but always found an excuse not to, this course will put an end to those excuses. You won't find a more relaxed, supportive and hilarious course to learn comedy on, run by the kindest man in comedy – and you can quote me on that!" Imogen Bole
"Thank you very much Dec, I learned a lot, was challenged, and improved a lot. Great material provided, very good exercises. I can only recommend the course, I promise you, you will not regret it." Wilfried Tchangoue
"Dec is the man. This is a really inviting and friendly way to introduce yourself to the world of comedy. As someone who had absolutely no background or idea in what performing was all about, this course taught a solid foundation of theory and case studies to learn from. That theory is then consistently practiced in weekly challenges (but this is never too scary or overwhelming). By the end, you'll be on your way! Plus you'll most likely meet a bunch of legends. Do it!" Anthony Smith
"Dec is a fantastic teacher, full of enthusiasm and a killer beard. I studied with him on the 'introduction to stand up comedy course', it was such a positive experience and a great way to start your "career" in comedy. He's got a fantastic comedy brain and eye for comedy, I'd love to work with him again in the future, highly recommended" George Heslop
"Words don't really do justice how much I enjoyed the course and how much of that is down to Dec. I came in not knowing what to expect and Dec was knowledgeable, kind, constructive and hilarious. He goes the extra mile, even if he doesn't have to and I was so glad to have him teaching me. I learnt a great deal and can go away from the course ready to keep applying what Dec has taught me to the real/comedy world." Lara Modiano
"Such a great course! I really learnt a lot and I didn't stop laughing! This is the best course ever. It will change your life forever!" Charlie Latimer
"Dec's course is great because he gives you all of the rules and techniques people follow to generate standup material, but he doesn't prioritise any of that over you finding your own persona and voice and what's funny about you. At our class showcase, everyone was funny and no one sounded the same. If you think you might be interested in standup and want to build some confidence, this is absolutely the class for you." Amanda Stauffer
"Dec is great at this - he clearly loves comedy, he clearly knows comedy, and he clearly enjoys teaching. I would recommend the course to anyone - whether you are serious about doing comedy and want to make the best possible start, or if you just want to have fun for a few weeks, meet some cool people and do an exceptionally cool thing (perform a gig at the Bill Murray in front of a crowd). Attending the course is one of the best things I have done for myself" Fergus O'Doherty
"Dec is a great teacher, balancing encouragement with honesty and constructive feedback. This course will not let you down. It doesn't matter why you want to do it, I can promise you will meet interesting people, the final showcase it's a rush of adrenaline, and you will have tremendous fun. There is downside though: once it's over, you will have withdrawal symptoms and you will miss your weekly appointments with Dec and your fellow classmates to talk about comedy!" Benedetto Ferretti
"Dec created a really supportive class where I felt included from day 1. While he encourages flexibility and developing your own voice, he also doesn't shy away from giving direct, pointed feedback on concrete material – this is a nice balance. Highly recommend the course!" Amanda Choumin
"Before this course I never thought I'd be able to do stand-up comedy and by the end of it I had written my first 5 minutes and performed it in front of an audience. I met great people and enjoyed every moment of every class – I'm definitely going to continue with comedy and that is down to the confidence and skills that Dec's teaching gave me." Ben Levett
"I had a delightful time! It's a great way to take some first comedy steps in a friendly and supportive environment. Dec knows everything about comedy and my classmates were lovely (and hilarious). The final showcase was so much fun." Rosie Thomas
"Booking this course was one of the best decisions I've made in a long long time. It's a safe, friendly and supportive space to explore the foundations of comedy. I've met some amazing people and rest assured you are in excellent hands with Dec." Leah Davis
For any questions about the course or to be added to the course mailing list please email dec@angelcomedyclub.com
Presented by Angel Comedy
0