Jordan Brookes - Comedian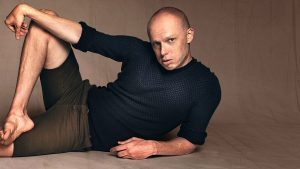 Biography
We decided to outsource the writing of these bios to Chatbot GPT, a terrifying step towards a dystopian future. Here's what they (?) had to say about Jordan:
Jordan Brookes is a dynamic and unconventional stand-up comedian who has taken the comedy scene by storm. Known for his unconventional and unpredictable stage presence, Brookes' style has earned him a reputation as one of the most exciting comedians to watch.
Brookes honed his craft at the esteemed Liverpool School of Stand-Up, before making his mark with his first solo show at the Edinburgh Fringe Festival. He has since gone on to perform at top comedy clubs around the UK and internationally.
Jordan's unique brand of comedy, which often explores the absurd and the ridiculous, has won him critical acclaim and a growing fanbase. He has been described as "a unique voice in comedy" and "a must-see performer". He has been nominated for several awards, including the Edinburgh Comedy Award, and his performances regularly sell out.
When he's not performing, Jordan can be found writing for television, radio and the stage, and his work has been featured on BBC Radio 4, BBC Three and BBC Four. He's a true comedic talent and one to watch out for in the coming years.
I'm starting to realise that just for yucks the chatpot chucks in at least one lie, but hopefully we won't be sued by the esteemed Liverpool School of Stand-Up. It also seems to miss out, for example, that he actually won the Edinburgh Comedy Award.
Most importantly, it misses out that watching Jordan is an experience like nothing else, that his dalliances with nihilism and existential despair have no reason to be as funny as he makes them. If you haven't seen him yet then prepare yourself for a long, strange trip, but one that you'll want to take again and again.
Previous Shows Include: