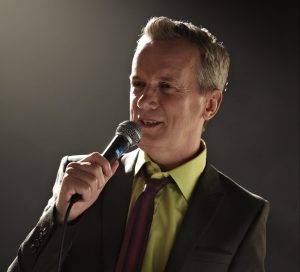 Biography
We decided to outsource the writing of these bios to Chatbot GPT, a terrifying step towards a dystopian future. Here's what they (?) had to say about Frank:
Frank Skinner is a British comedian, writer, and television presenter. Born in the West Midlands in 1957, Frank Skinner began his career as a stand-up comedian in the 1980s, performing in the comedy clubs of Birmingham and London.
He quickly rose to prominence, winning the 1991 Perrier Award at the Edinburgh Fringe Festival, and has since established himself as one of the most successful comedians in the UK. Frank has written and performed a number of highly-acclaimed comedy shows, including "Frank Skinner's Opinionated" and "Room 101". He's a regular on British TV, hosting and appearing on various shows, including his own chat show "Frank Skinner's Saturday Morning".
Aside from his comedy career, Frank is also a talented writer, having published two best-selling memoirs and contributed to a number of magazines and newspapers. He's a big music fan, and has hosted several music-themed TV shows, including "Frank Skinner's Unplanned" and "Frank Skinner's Opinionated". He's also released a number of albums, including "Frank Skinner Live" and "Frank Skinner on the Road".
With his quick wit, clever writing, and unique style, Frank Skinner continues to be one of the most beloved and respected comedians in the UK. Whether he's performing live, writing a book, or appearing on television, Frank's infectious personality and humorous outlook on life never fail to bring a smile to the faces of his fans.
Hmmm. The Chatbot has once again made a few errors here, and once again, unless I'm very much mistaken, just made a few things up.
Still, one thing it is right about is that he never disappoints, indeed, I've seen him bring a smile to the faces of people who aren't his fans! You would be forgiven for thinking that such a national icon would be blunted after all these years at the top, but his bit about millionaire shortbread was one of my favourites and he's still just as sharp as ever. We're always super happy to have him down and we're sure you'll be just as excited to see him.
Previous Shows Include: